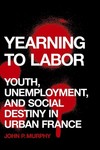 Title
Yearning to Labor: Youth, Unemployment, and Social Destiny in Urban France
Description
In the first decade of the twenty-first century, France underwent a particularly turbulent period during which urban riots in 2005 and labor protests in 2006 galvanized people across the country and brought the question of youth unemployment among its poorer, multiethnic outer cities into the national spotlight.
Drawing on more than a year of ethnographic field research in the housing projects of the French city of Limoges, Yearning to Labor chronicles the everyday struggles of a group of young people as they confront unemployment at more than triple the national rate—and the crushing despair it engenders. Against the background of this ethnographic context, John P. Murphy illuminates how the global spread of neoliberal ideologies and practices is experienced firsthand by contemporary urban youths in the process of constructing their identities. An original investigation of the social ties that produce this community, Yearning to Labor explores the ways these young men and women respond to the challenges of economic liberalization, deindustrialization, and social exclusion.
At its heart, Yearning to Labor asks if the French republican model of social integration, assimilation, and equality before the law remains viable in a context marked by severe economic exclusion in communities of ethnic and religious diversity. Yearning to Labor is both an ethnographic account of a certain group of French youths as they navigate a suffocating job market and an analysis of the mechanisms underlying the shifting economic inequalities at the beginning of the twenty-first century.
Publication Date
4-1-2017
Publisher
University of Nebraska Press
Recommended Citation
Murphy, John P. Yearning to Labor: Youth, Unemployment, and Social Destiny in Urban France. Lincoln, NE: University of Nebraska Press, 2017.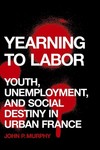 COinS