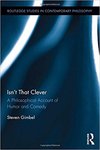 Title
Isn't That Clever: A Philosophical Account of Humor and Comedy
Description
Isn't That Clever provides a new account of the nature of humor – the cleverness account – according to which humor is intentional conspicuous acts of playful cleverness. By defining humor in this way, answers can be found to longstanding questions about humor ethics (Are there jokes that are wrong to tell? Are there jokes that can only be told by certain people?) and humor aesthetics (What makes for a good joke? Is humor subjective?). In addition to humor in general, Isn't That Clever asks questions about comedy as an art form such as whether there are limits to what can be said in dealing with a heckler and how do we determine whether one comedian has stolen jokes from another.
Recommended Citation
Gimbel, Steven. Isn't That Clever: A Philosophical Account of Humor and Comedy. Routledge: New York, 2017.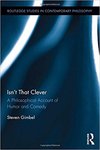 COinS