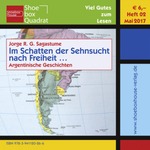 Title
Im Schatten der Sehnsucht nach Freiheit: Argentinische Geschichten
Roles
Author:
Jorge R. G. Sagastume
Translators:
Utz Rachowski
Michael Ritterson, Gettysburg College
Description
A series of seven accounts, originally in English, of incidents Jorge R. G. Sagastume experienced as a teenager during the 1970s military dictatorship in Argentina. Jorge Sagastume is an associate professor of Spanish at Dickinson College.
Recommended Citation
Rachowski, Utz, and Michael Ritterson, translators. Im Schatten der Sehnsucht nach Freiheit: Argentinische Geschichten. By Jorge R. G. Sagastume. Hamburg: Shoebox House, 2017.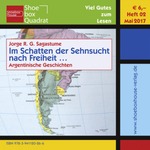 COinS