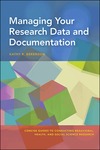 Title
Managing Your Research Data and Documentation
Description
In the behavioral sciences today, there is increasing emphasis on transparency, and the need for research studies to be made replicable.
This book presents a straightforward approach to managing and documenting one's data so that other researchers can repeat the study.
While data management may seem intimidating to new researchers, this book shows how easy it can (and should!) be. The first chapter presents a basic structure of folders and subfolders for organizing data files, and then each subsequent chapter delves into details for a specific folder.
Step by step, readers learn to label and archive different kinds of project documents and data files, including original, processed, and working data. Readers also learn to write command codes showing exactly how the original data are analyzed.
Examples illustrate how to document the most common types of research (an online survey, a paper questionnaire, and a multiple-trial experiment).
Since major research funders now require recipients to meet strict standards for data handling, this book will foster a vital career skill for students and promote transparency and replicability of research.
Publisher
American Psychological Association
Recommended Citation
Berenson, Kathy R. Managing Your Research Data and Documentation. Washington, DC: American Psychological Association, 2017.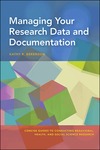 COinS