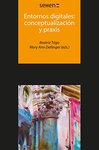 Title
Entornos Digitales: Conceptualización y Praxis
Description
Entornos digitales: conceptualización y praxis responde a la nueva realidad transmedial en la que se desarrollan las humanidades en el siglo XXI, donde el mundo de lo digital no solamente se ha implantado, sino que ha cambiado y seguirá transformando el discurso y la praxis que se establece entre el académico y los textos con los que trabaja. Los ensayos que comprenden este volumen reflejan la emblemática interdisciplinariedad de los estudios humanísticos dentro del entorno digital, así como el profundo cambio que dicho entorno ha supuesto para el investigador. Entornos digitales parte entonces de una perspectiva global de lo que son las humanidades digitales y cómo se manifiestan estas en la producción, investigación y docencia académica del siglo XXI, para luego pasar de lo global a lo específico, abarcando temas de transmedialidad en la producción literaria, fílmica, pictórica, virtual y la metodología didáctica del español como lengua extranjera.
Publication Date
8-17-2017
Keywords
digital environments, humanistic studies, global perspective, language teaching
Disciplines
Digital Humanities | Language and Literacy Education | Spanish Linguistics
Recommended Citation
Trigo, Beatriz and Dellinger, Mary Ann, eds. Entornos Digitales: Conceptualización y Praxis. Barcelona: Editorial de la Universitat Oberta de Catalunya, 2017.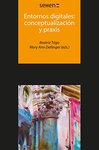 COinS