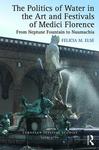 Title
The Politics of Water in the Art and Festivals of Medici Florence: From Neptune Fountain to Naumachia
Description
This book tells the story of one dynasty's struggle with water, to control its flow and manage its representation. The role of water in the art and festivals of Cosimo I and his heirs, Francesco I and Ferdinando I de' Medici, informs this richly-illustrated interdisciplinary study. Else draws on a wealth of visual and documentary material to trace how the Medici sought to harness the power of Neptune, whether in the application of his imagery or in the control over waterways and maritime frontiers, as they negotiated a place in the unstable political arena of Europe, and competed with foreign powers more versed in maritime traditions and aquatic imagery.
Publication Date
8-2-2018
Recommended Citation
Else, Felicia. The Politics of Water in the Art and Festivals of Medici Florence: From Neptune Fountain to Naumachia. New York: Routledge, 2018.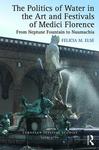 COinS