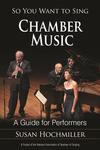 Title
So You Want to Sing Chamber Music: A Guide for Performers
Description
Vocal chamber music encompasses a wide range of music composed for anything from a solo to twelve voices and instruments. Performing chamber music offers the singer a unique opportunity to increase collaboration with instrumentalists and improve technique, musicianship, artistry, and communication.

So You Want to Sing Chamber Music offers a comprehensive guide to learning, rehearsing, and performing in this genre. The book explores such critical skills as choosing repertoire that is appropriate for one's voice type, communicating with wind players and string players, preparing for a successful rehearsal, performance style, staging considerations, and recital programming. Also included are suggestions on using vocal chamber music as a pedagogical tool in the voice studio, alongside recommendations for listening and further reading.
Additional chapters by Scott McCoy and Wendy LeBorgne address universal questions of voice science, pedagogy, and vocal health. The So You Want to Sing series is produced in partnership with the National Association of Teachers of Singing. Like all books in the series, So You Want to Sing Chamber Music features online supplemental material on the NATS website. Please visit www.nats.org to access style-specific exercises, audio and video files, and additional resources.
Publisher
Rowman & Littlefield
Department 1
Conservatory of Music
Recommended Citation
Hochmiller, Susan. So You Want to Sing Chamber Music: A Guide for Performers. Lanham: Rowman and Littlefield, 2018.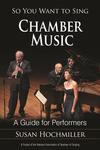 COinS