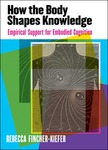 Title
How the Body Shapes Knowledge: Empirical Support for Embodied Cognition
Description
If you are leaning backwards in your chair, are you more likely to think about the past than the future?
When you say that someone "leaves me cold," do you literally feel cold?
What role does the body play in our perceptions of the world?
Is the mind a calculating machine, or are our thoughts and emotions "grounded" in specific, felt, bodily experience?
Questions like these have long driven research in embodied cognition, a theory of mental functioning that has gained increasing prominence in recent decades.
This book explores embodied cognition from an experimental psychology perspective. Author Rebecca Fincher-Kiefer examines a wealth of evidence, including behavioral studies supported by neuroscientific findings, that suggest that our knowledge of the world is represented, or grounded, in the neural pathways that were used when we initially experienced those concepts.
A "reuse" of these same neural pathways, according to embodiment theory, is therefore what constitutes thinking.
With compelling descriptions and an investigative spirit, this book is essential reading for graduate and undergraduate students, and anyone seeking to understand the past, present, and future of human cognition.
Publisher
American Psychological Association
Recommended Citation
Fincher-Kiefer, R. (2019). How the Body Shapes Knowledge: Empirical Support for Embodied Cognition. Washington, D.C.: American Psychological Association.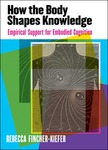 COinS