Title
Preview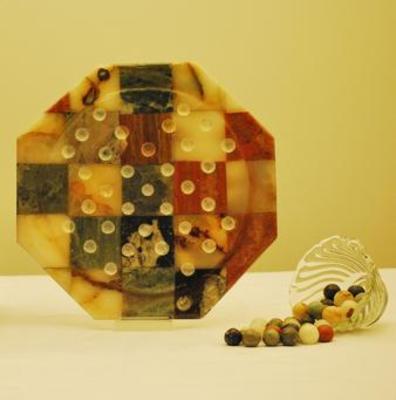 Description
Chinese Checkers Set
21st Century
Various stones and goniatite fossil
9 3/8" in diameter
On loan from Dr. Kazuo Hiraizumi, Biology Department, Gettysburg College
Until just prior to the Renaissance period, the prevailing attitude about nature and art was that they were two different entities. The relationship between nature and artifice became more connected; as a result, objects that took on both natural and artificial attributes were filling collection cabinets during the Renaissance. Collection cabinets displayed various objects, some of which were taken directly from nature: plants, fossils, biological marvels, and preserved specimens; while others were art pieces such as paintings, sculptures, and crafted objects. The arrangement of objects accentuated the means by which nature and art interacted, creating an allegory, symbol, or other meaning for the collector. This was a wonder in itself, but even more so were objects that fused art and nature in and of themselves.[1]
Some objects were highly ornate and luxurious, incorporating gems and gilded materials around some otherwise ordinary looking pieces from nature, while others were believed to be made from exotic or fabled specimens and possessing medical and magical properties.[2] Some of these objects were interpreted as having spiritual significance–propagated by the superstitions that certain "exotic" natural objects were said to have held medical and alchemical properties.[3] Hapsburg ruler Rudolf II (1552-1612) of Prague owned an abundant collection filled with a number of items ranging from naturalia to artificialia and everywhere in between; however, some of the objects he most valued were those that he believed to possess medico-magical properties and could lengthen his life. These special or exotic natural objects were transformed into artistic and ornamental pieces to which he assigned private ceremonial uses. A bezoar stone cup (ca. 1600) from Rudolf's cabinet was believed to render poisons harmless when poured into the cup. [4] Another interpretation of the importance of these objects is that the objects expressed an unattainable beauty of the uncontrollable force of nature which, suggested at the wealth and power of those who could contain it in their collections.[5] The Medici were famous for their extravagant and exotic pieces that reflected nature and artifice in nearly every piece they owned. One piece in particular is a double nautilus shell that was gilded with silver to form some sort of drinking vessel.[6] Another good example is a nautilus shell that was mounted to form the underbelly of a swan –this piece belonged to the Elector of Saxony and was made in Nuremburg in the early 17th century [7] . Such objects were "gloried in superfluity, careless of function and extravagant in expenditure of labor and materials," which is to say that they did not serve a function in use of the objects but they had another, more symbolic, function.[8]
However, despite the supposed superfluity of these objects, artisanal pieces often were made into items that may have been put to practical use. Various metals, stones, and other precious items were not only valued for their luxurious appeal, but also for their ability to bring out the beauty of the nature that exists within them.[9] Goblets, plates, containers, shells and other decorative pieces were carved from stone and fossilized sediments and crafted in ways that distinctly emphasized their naturalness. One object that can attest to this is a 17th-century cup that was made from rhinoceros horn and decorated with two warthog tusks (then believed to be the horns of a dragon). [10] Ultimately, the display and purpose of an object were decided by the collector.
The items on display in the Gettysburg Collection Cabinet are present-day decorative stone pieces, carved out of marbleized fossil beds from the Sahara Desert region of Morocco, containing different kinds of fossilized cephalopods from the Devonian period (417-354 million years ago). These objects were loaned from the personal collection of Dr. Kazuo Hiraizumi, Associate Professor of Biology at Gettysburg College. An ardent collector of such objects, Dr. Hiraizumi is particularly interested in the craftsmanship and natural beauty of these artifacts. Many of these objects contain either fossilized orthoceras or goniatite in a black marble matrix and, much like the objects of the Renaissance, carry some sort of mysticism in their appearance.[11] In fact, fossil deposits of these ammonites were found to be abundant in the seas and in nearby quarries where these fossils were mineralized.[12] [13] Some of the objects, such as the plates, goblets and bookends, were carved and sculpted from the same kind of marble. The carvings taken from the same part of a rock can be observed in the matching cross sections of orthoceras in the bookends.
Other objects were composites of different parts that best fit the shape and design of the desired product. The item pictured above is a Chinese checkers set made from various stones and corresponding matching marbles. The Chinese checkers board measures approximately nine and one-half inches in diameter and is octagonal in shape. Each adjacent tile in the checkers board is made of a different stone and includes marbles made from the same stones used to make the tiles. One tile in the center row is even made from a similar kind of black marble as the plates, and goblets and its matching marbles contain goniatite fossils within them as well.
Composite objects such as chess and checkers sets and other game sets formed from various colored marble and stone display the variety and significance of the different materials used to make up the artifact, much like the famous Medici animal grotto at Castello represented sculpted animals from different colored clays and materials. [14] Although these objects are more contemporary, they still reflect the Renaissance spirit of the interaction of both the natural and the artisanal. The formation of these objects is not an easy task and many pieces are appended with either clay or other smaller pieces; however, the beautiful polished finishes on these pieces make the artistic process to achieve this effect appear seamless.
In addition to the wonder that is exuded by these objects in showing the union of nature and artifice, it is also wondrous that there were various techniques artists employed to form such objects. One notable Renaissance artist and naturalist is Bernard Palissy, whose life-casting techniques were not very well known until much later after his death, making his artwork and style very unique.[15] Palissy's works take scenes from nature and transform them into decorative pieces that echo those scenes. However, there were challenges that Palissy encountered in attempting to capture and imitate nature in his art. Such challenges were found in the technique of life-casting itself and in keeping his specimens alive and in healthy conditions for Palissy was a naturalist, as well as an artist.[16] Even contemporary ceramicists have noted the difficulty in meticulously creating cast representations of fossils and in working with fossils in general.[17] These hardships encountered by artists working with natural objects helped shape them into better naturalists for they developed sharper skills of observation and researching their specimens. One recent artist in particular, T. Brantley Burns, has found an interest in studying and representing fossils in his artwork through various mediums and mostly as ceramics and sculpture. This "newly found interest" in fossils derived partly from his interest in nature –he loved fishing in his youth and continues to do so for leisure –as well as his profession and love for creating three-dimensional sculptural and ceramic works of art, which has coalesced into this project of representing fossils naturally through art[18] , is precisely what a product of the Renaissance (artist and naturalist as one) would have enjoyed circulating during that time. Although this culture of the Renaissance "curiosities" has changed and fragmented into different secular schools of thought (art and humanities versus science and mathematics) over the years, there are still remnants of the Renaissance scholar and curious collector.
Although some artifacts may appear to have similar features, such as gilding and polishing, no two pieces were created the same way. Still, it is the existence of such varied techniques, perfected and modified over time that allowed for these objects, uniquely crafted from nature, to be displayed and marveled at by visitors and collection owners alike.
--------------------------------------------------------------------------------
Read more about fossils during the Renaissance.
Read more about ammonites.
Visit Crest of the Potter to visit the website of a modern-day "Renaissance" artist-naturalist, T. Brantley Burns.
--------------------------------------------------------------------------------
1. Lorraine Daston and Katharine Park, "Wonders of Art, Wonders of Nature," in Wonders and the Order of Nature, 1150-1750 (New York, NY: Zone Books, 1998), 260.
2. Ibid, 280.
3. Peter Marshall, "The Kunstkammer," in The Magic Circle of Rudolf II: Alchemy and Astrology in Renaissance Prague (New York, NY: Walker & Company, 2006), 85.
4. Jan Vermeyer, Bezoar cup and ewer, 1600, in Cabinets of Curiosities, by Patrick Mauriès (London, UK: Thames & Hudson, 2002), 173.
5. Daston, "Wonders of Art, Wonders of Nature," in Wonders and the Order of Nature, 277-278, 286.
6. Double nautilus shell, early-mid 17th century, in Cabinets of Curiosities, by Patrick Mauriès (London, UK: Thames & Hudson, 2002), 80.
7. Nautilus drinking cup and swan figurine, 1600, in Cabinets of Curiosities, by Patrick Mauriès (London, UK: Thames & Hudson, 2002), 81.
8. Daston, "Wonders of Art, Wonders of Nature," in Wonders and the Order of Nature, 277.
9. Marshall, "The Kunstkammer," in The Magic Circle of Rudolf, 75.
10. Nikolaus Pfaff, Rhinoceros horn cup, 1611, in Cabinets of Curiosities, by Patrick Mauriès (London, UK: Thames & Hudson, 2002), 172-173.
11. Dr. Kazuo Hiraizumi, email and personal interview by the author, Associate Professor of Biology at Gettysburg College, Gettysburg, PA.
12. Cephalopods (Norman, OK: Sam Noble Oklahoma Museum of Natural History) http://commonfossilsofoklahoma.snomnh.ou.edu/cephalopods
13. (Orthoceras) The Evolution of Cephalopod Molluscs (Richland, WA: Washington State University Tri-Cities Natural History Museum, 2001-2008) http://shells.tricity.wsu.edu
14. Giambologna (?), Grotto of the Animals, Medici Villa, Castello, in Cabinets of Curiosities, by Patrick Mauriès (London, UK: Thames & Hudson, 2002), 75.
15. Hanna Rose Shell, "Casting Life, Recasting Experience: Bernard Palissy's Occupation between Maker and Nature," Configurations 12 (2005): 9.
16. Ibid, 12.
17. T. Brantley Burns, Interpreting Fossils: Rising to the Challenge, Thesis (2011), 52-58. http://thecrestofthepotter.com/docs/MFA-Thesis.pdf
18. Ibid, 7-9.
Recommended Citation
Mohamed-Aly, Dina, "Fossil Artifacts" (2012). The Gettysburg Cabinet. 7.
https://cupola.gettysburg.edu/cabinet/7