Title
Preview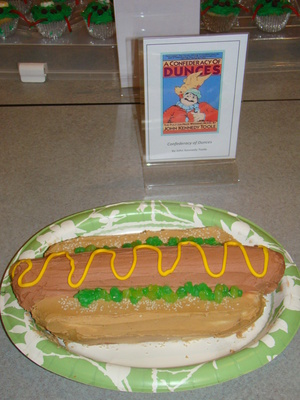 Book
A Confederacy of Dunces, by John Kennedy Toole
Project Description
In celebration of National Library Week 2015, Musselman Library held its second annual Edible Book Festival. Library staff and faculty created many book-inspired treats to share with the campus community. This year we awarded prizes in several categories as well. This submission was created by Amy B. Dailey.
This entry is an homage to Ignatius Reilly's adventures selling (but mostly eating) hot dogs for Paradise Vendors, Inc. The "bun" was made of pound cake sprinkled with sesame seeds, the "hot dog" was sponge cake, and the "relish" effect was created with Jelly Bellies.
Edible Books Festival Winner of Best in Show!
Keywords
Edible Books Festival, Musselman Library, National Library Week
COinS