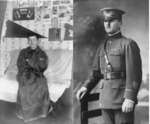 Description
This collection consists primarily of materials produced by F.D. Hurd himself. The collection includes a memoir draft, photographs of his college experiences, diaries from his college and war time, and various artifacts and memorabilia from Hurd's time in the military. The collection focuses heavily on Hurd's college activities and his war service. While the collection does not provide much official information on Hurd's military service and Gettysburg College experience, it does contain extensive anecdotal information from Hurd's diaries and remembrances, dictated to his son in the 1970s. There is also a significant amount of information about his time in medical school.
Special Collections and College Archives Finding Aids are discovery tools used to describe and provide access to our holdings. Finding aids include historical and biographical information about each collection in addition to inventories of their content. More information about our collections can be found on our website http://www.gettysburg.edu/special_collections/collections/
Collection Size
4 cubic feet
Publication Date
October 2013
Keywords
Hurd, Fritz Draper, Gettysburg College, World War I, 1914-1918, American Expeditionary Force, Trench warfare, Artillery, Sigma Chi, Greek life, Hazing, Football, Baseball, Medicine, Medical school
Disciplines
History | Military History | United States History
Copyright Note
This finding aid appears in Gettysburg College's institutional repository by permission of the copyright owner for personal use, not for redistribution.
Recommended Citation
Lucadamo, Amy and Danielle Jones. "MS - 153: The Fritz Draper Hurd '16 Papers" (October 2013). Special Collections and College Archives Finding Aids. Special Collections and College Archives, Musselman Library, Gettysburg College.
Document Type
Finding Aid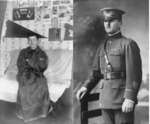 Included in
COinS