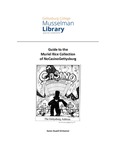 Description
Muriel Rice, along with Susan Paddock, led the campaign to stop David LeVan's proposal to build a casino in Straban Township in 2005-2006. The two women co-chaired the organization and led it to its successful conclusion. This one box collection of Muriels's papers supplements MS-209 NoCasinoGettysburg Papers and contains Muriel's letters and emails as well as some NoCasino's working files, printouts from the organization's web-site, NoCasino.com, letters to the editor, and news clippings for 2005-2006. Although arranged in a similar fashion to MS-209, the collection's small size (0.75 cu. ft.) did not warrant division into Series.
Special Collections and College Archives Finding Aids are discovery tools used to describe and provide access to our holdings. Finding aids include historical and biographical information about each collection in addition to inventories of their content. More information about our collections can be found on our website https://www.gettysburg.edu/special-collections/collections/.
Collection Size
1 box, .075 cu. ft.
Publication Date
May 2019
Keywords
NoCasinoGettysburg Papers, working files, Muriel Rice, Susan Paddock
Disciplines
Law | Nonprofit Administration and Management
Copyright Note
This finding aid appears in Gettysburg College's institutional repository by permission of the copyright owner for personal use, not for redistribution.
Recommended Citation
Dupell Drickamer, Karen. "MS-209: Guide to the Muriel Rice Collection of NoCasinoGettysburg" (May 2019). Special Collections and College Archives Finding Aids. Special Collections and College Archives, Musselman Library, Gettysburg College
Document Type
Finding Aid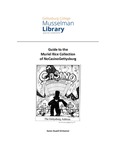 COinS