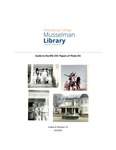 Description
The material in this collection documents the foundation of the Star and Crescent Club, its assimilation into a national fraternity, and the financial and social ventures of the fraternity through the early 1990s. Illustrated in papers, blueprints, photo albums, and clothing, this collection is interesting not only for Theta Chi brothers curious about the history of their organization at Gettysburg, but for anyone wishing to follow the development of fraternity culture at Gettysburg since the middle of the 20th century. In addition to the materials housed in Special Collections, donor Jeff Glisson also intends to send related materials to Theta Chi National. These materials include various meeting minutes from 1963 to 1989, an historian's book chronicling from 1952 to 1978, issues of The Deltacron, Articles of Incorporation, responsibility lists for vice president and secretary, and rush brochures from the 1960s and 1970s.
Special Collections and College Archives Finding Aids are discovery tools used to describe and provide access to our holdings. Finding aids include historical and biographical information about each collection in addition to inventories of their content. More information about our collections can be found on our website https://www.gettysburg.edu/special-collections/collections/.
Collection Size
4 boxes & oversize items, 4.25 cubic feet
Publication Date
April 2019
Keywords
fraternity, Greek life, Theta Chi, Gettysburg College, Star and Crescent Club
Disciplines
Social History | United States History
Copyright Note
This finding aid appears in Gettysburg College's institutional repository by permission of the copyright owner for personal use, not for redistribution.
Recommended Citation
Richwine, Lindsay R. "MS-233: Papers of Theta Chi" (April, 2019). Special Collections and College Archives Finding Aids. Special Collections and College Archives, Musselman Library, Gettysburg College.
Document Type
Finding Aid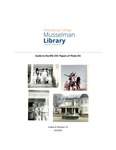 Included in
COinS