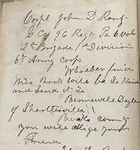 Description
John D. Rentz's Civil War diary chronicles the time he spent with the 96th Pennsylvania Infantry between December 26, 1863, and September 6, 1864. The diary details a wide array of information pertaining to his life with the regiment and the progress of the Civil War.
Rentz's pension letter is very simple, merely asking for B. Penrose's assistance with securing a renewal of his pension. The "Rebel letter" written by Margaret Jones to Joseph King is also simple, providing a few details about the rainy weather, the progress of the crops, and expressing Jones's desire to see her brother.
The 3-page manuscript, written for the Patriotic Order of the Sons of America, an organization once associated with the Know-Nothing Party, conveys a high level of concern about "foreigen competition" (pg. 1). The author is unknown, but the handwriting does resemble John D. Rentz's handwriting.
Special Collections and College Archives Finding Aids are discovery tools used to describe and provide access to our holdings. Finding aids include historical and biographical information about each collection in addition to inventories of their content. More information about our collections can be found on our website https://www.gettysburg.edu/special-collections/collections/.
Collection Size
0.18 cubic feet
Publication Date
June 2022
Keywords
Civil War, manuscripts, diaries, Pennsylvania, Union
Disciplines
American Studies | Military History | United States History
Copyright Note
This finding aid appears in Gettysburg College's institutional repository by permission of the copyright owner for personal use, not for redistribution.
Recommended Citation
Russell, Danielle. "Guide to MS-289: John D. Rentz Civil War Diary" (June 2022). Special Collections and College Archives Finding Aids. Special Collections and College Archives, Musselman Library, Gettysburg College.
Document Type
Finding Aid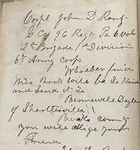 COinS