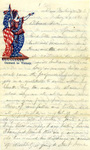 Description
The George W. Beidelman Collection holds its most significant information in letters written by George to his father, Jacob. In these letters, George shares his political opinions, religious beliefs, and camp-life descriptions. The core of the collection is the correspondence from August 1, 1862 until November 18, 1862, in which George writes diary-like entries to his father, recounting each day's activities. Accounts of the fighting at Ball's Bluff and Fredericksburg are the most detailed battle descriptions. However, the collection's strength is in George's astute observations regarding camp life and the political aspects of the war.
In addition to letters written by George to his father, the collection includes letters to George from his father, brother, friends and fellow soldiers; various Army and United States Government documents pertaining mostly to George's death; a newspaper clipping of a letter to the editor written by George; and the creative writings of George.
The collection is arranged chronologically with the bulk of the material being from 1860-1864.
Special Collections and College Archives Finding Aids are discovery tools used to describe and provide access to our holdings. Finding aids include historical and biographical information about each collection in addition to inventories of their content. More information about our collections can be found on our website http://www.gettysburg.edu/special_collections/collections/.
Publication Date
April 2002
Keywords
Civil War, 71st Pennsylvania Volunteers, Ball's Bluff, Battle of Gettysburg, Civil War hospital, Quartermaster Corps, typhoid, California Regiment, Seven Days Battle, Battle of Antietam, Battle of the Wilderness, Cold Harbor, Battle of Fair Oaks, Civil War camp life, Civil War correspondence
Disciplines
History | History of Religion | Military History | Social History | United States History
Copyright Note
This finding aid appears in Gettysburg College's institutional repository by permission of the copyright owner for personal use, not for redistribution.
Recommended Citation
Luy, Kevin D., "MS-043: George Washington Beidelman Collection" (April 2002). Special Collections and College Archives Finding Aids. Special Collection and College Archives, Musselman Library, Gettysburg College.
Document Type
Finding Aid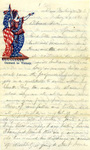 COinS