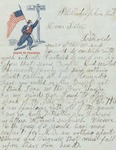 Description
The Ambrose Henry Hayward Collection consists primarily of correspondence from the period April 14, 1861 through August 17, 1864. The bulk of the letters were written by A.H. Hayward to his father, sister and brothers, but the collection includes 3 letters written by Melville Hayward of the 7th New York (6/22/1862, 7/10/1862, 7/23/1862), letters from Henry's commanding officers regarding his service and four letters regarding Henry's death.
Also included in the collection are several newspaper clippings about the 28th Pennsylvania, Hayward's 1862 promotion to Sergeant, and 19 envelopes addressed to Mr. Ambrose, Mr. Albert, Mr. John and Miss Hannah C. Hayward of North Bridgewater, MA and to Mr. Augustus Hayward of New York City.
All letters have transcriptions, though many are slightly inaccurate. The collection is arranged chronologically. The letters provide firsthand accounts of camp life, major battles and minor skirmishes during the Civil War as experienced by a high-spirited and patriotic Union soldier.
Special Collections and College Archives Finding Aids are discovery tools used to describe and provide access to our holdings. Finding aids include historical and biographical information about each collection in addition to inventories of their content. More information about our collections can be found on our website http://www.gettysburg.edu/special_collections/collections/.
Publication Date
April 2000
Keywords
Civil War, Ambrose Hayward, 28th Pennsylvania, Medal of Honor, Antietam, Chancellorsville, Chattanooga, Battle of Pine Knob, Goldstream Regiment, Gettysburg, Lookout Mountain
Disciplines
History | Military History | United States History
Copyright Note
This finding aid appears in Gettysburg College's institutional repository by permission of the copyright owner for personal use, not for redistribution.
Recommended Citation
Foster, Melodie A. "MS-009: Ambrose Henry Hayward Papers" (April 2000). Special Collections and College Archives Finding Aids. Special Collection and College Archives, Musselman Library, Gettysburg College.
Document Type
Finding Aid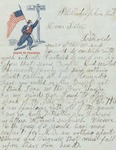 Included in
COinS