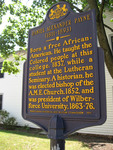 Document Type
Student Research Paper
Publication Date
Spring 2006
Description
On Washington Street, across from McKnight Hall and adjacent to the Intercultural Resource Center, a sign stands in commemoration of the life and accomplishments of an African American who studied at the seminary from 1835 to 1837. The plaque reads: Daniel Alexander Payne (1811-1893). Born a free African American. He taught the colored people at this college, 1837, while a student at the Lutheran Seminary. A historian, he was elected bishop of the AME Church, 1852, and was president of Wilberforce University, 1863-76. What Payne was able to achieve in his life is matched by few of his contemporaries considering the fact that he was a black who grew up in Charleston, South Carolina. Believing that he was ordained by God, he became an educator and an ordained minister. Later in his life, Payne became the first African American president of a college when the African Methodist Church bought Wilberforce University in 1863. Daniel Payne, with his intellectual ideas, influenced the policy of the AME Church for years to come. The Gettysburg College Intercultural Resource Center claims that Pennsylvania College's acceptance of Daniel Payne was "the first step at addressing cultural diversity at Gettysburg College." Payne's personal ambition and his influence in both the abolition movement and the education of black Americans present an example of a model citizen.
Course Information:
Course Title: HIST 300: Historical Method
Academic Term: Spring 2006
Course Instructor: Dr. Michael J. Birkner '72
Hidden in Plain Sight is a collection of student papers on objects that are "hidden in plain sight" around the Gettysburg College campus. Topics range from the Glatfelter Hall gargoyles to the statue of Eisenhower and from historical markers to athletic accomplishments. You can download the paper in pdf format and click "View Photo" to see the image in greater detail.
Keywords
Gettysburg College, Hidden in Plain Sight, Daniel Alexander Paine, African American, Seminarian
Disciplines
African American Studies | Public History | United States History
Recommended Citation
Vazzano, Brian A., "The Life and Impact of Daniel Alexander Payne" (2006). Hidden in Plain Sight Projects. 36.
https://cupola.gettysburg.edu/hiddenpapers/36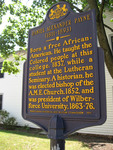 COinS