Title
Preview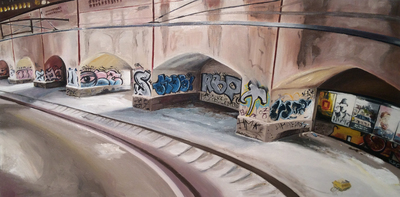 Creation Date
Spring 2015
Description
Oil on Wooden Board
From the artist: Travel is exhilarating. Grand monuments and stunning landscapes fill itineraries and memory cards. However, in traipsing from one tourist hotspot to another, everyday views of the local environment are missed. Colorful graffiti in a foreign language emblazon dirty concrete walls. Geese nibble a bicycle tire in a carefully reimagined historic town. Locals go about their day in front of distinguished architecture and sweeping vistas.
My paintings focus on these small ordinary moments of exploration, which are just as beautiful and meaningful as big iconic ones. They make the unseen seen. The seemingly unremarkable becomes remarkable simply because it is noticed and expressed in new ways.
There is quirkiness as the banal gains spontaneity and personality, and the temporary and transitional moments of travel achieve permanence.
From my own collection of photographs, and with oils on panel, I recreate scenes from my time studying abroad in Europe. My paintings capture this through lines and curves, depth and perspective, angles and planes. The style is realistic to mimic the veracity of the experience. Sharp contours, defined shapes, highlights and shadows draw focus, while soft curves and loose strokes offer visual repose to balance the composition. Color also reinforces the message. Neutral tones cover the majority of the composition, and bright spots of color highlight the details.
The medium, process, and final work itself offer a chance to relive these moments. They evoke a new level of appreciation for the experience and revive notions of wonder. At the same time, the work is significant in its own right. The basic is beautiful, the habitual has humor, and the present connects back to the past.
Historic landmarks and sweeping vistas only offer so much. Attention turns to the commonplace. Atypical views and unknown people become subject matter and express the character of the city and landscape even more so than the mustsee sights of travel guides. My paintings make the transience of exploration permanent and cast light on beautifully ordinary moments.
Keywords
oil on wood, Denmark, artwork, outdoor scenes, travel, landmarks
COinS