Title
Preview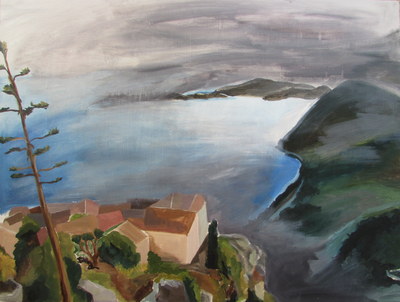 Creation Date
Spring 2015
Description
Water-Based Oil Paint on Wood Panel
From the artist: I aim to convey a fleeting moment that would otherwise be lost if not captured in my work. I am not interested in creating an idealized image but rather an image that is raw and honest. Painting scenes from my study abroad experience in Southern France is a reflective process where I am able to mentally revisit a place that holds many memories.
I paint with bright, expressive colors. Color is very important in establishing the character of my work. I convey detail through gesture. I paint quickly and simply, fully resolving certain parts of the painting and leaving others unfinished. The thin application of paint is a reminder of the fleeting nature of each moment I aim to capture. I want each scene to feel inhibited without the direct depiction of people.
Capturing light and atmosphere is crucial. By layering and blending the colors I engage in a dialogue with the space, the resulting image reflecting my personal feelings toward the scene. I combine photographic sources with my memories with the aim of creating an image that generates wonder and awe in the viewer.
Keywords
Painting, Art, Artwork, Provence, Oil on wood
COinS