Title
Preview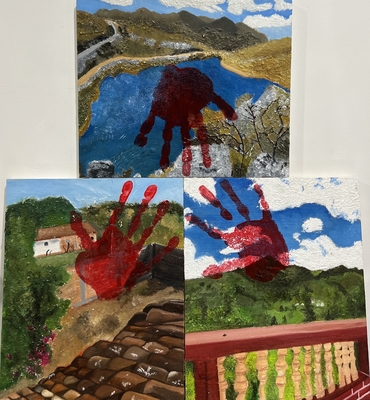 Creation Date
Spring 2022
Description
My series of paintings focused on the Missing and Murdered Indigenous Women, Girls, and 2-Spirit People (MMIWG2S) movement and the importance of place. The MMIWG2S is a movement that advocates for the end of violence toward Indigenous women. May 5th marks the National Day of Awareness for the MMIWG2S movement, so people of different backgrounds across North America get together and show solidarity for missing and murdered Indigenous women by wearing red. Red is the official color for the MMIWG2S movement and plays a significant role in my paintings. I asked two of the staff members who participated in my project to come into the studio and put their handprints on the landscapes I painted for them. The landscapes in the series come from three different places where I and two staff members felt safe with our indigenous identity. The painting on the bottom left was inspired by a photograph that was taken in Mexico by one of the staff members. The painting on the top center was inspired by a photograph that was taken in Peru by the other staff member. The painting on the bottom right was inspired by a photograph that I took in Ecuador. The reason why I chose to have our handprints connect towards the middle is to show unification during a time of remembrance that honors our native sisters.
Creative Commons License


This work is licensed under a Creative Commons Attribution-Noncommercial-No Derivative Works 4.0 License.
Keywords
Indigenous Peoples, Missing and Murdered Indigenous Women, Activism, Landscape Painting
COinS