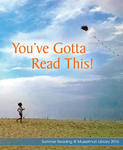 Abstract
Each year, Musselman Library asks Gettysburg College faculty, staff, and administrators to help create a suggested summer reading list. Our goal is to inspire students and the rest of our community to take time in the summer to sit back, relax, and read.
With the 2016 collection, we again bring together recommendations from across our campus—the books, movies, TV shows, and even musicals that have meant something special to us over the past year. 124 faculty, administrators and staff offer up a record number of 226 recommendations.
We include five special features this year. Two of our regular columnists are back – James Udden has new recommendations for film and TV, and Allen Guelzo continues his Civil War sesquicentennial series with a new focus on the literature of Reconstruction. Caroline Hartzell contributes a "Focus on Food" feature tied to a new college program beginning this fall. Alexa Schreier recommends some of her favorite pieces of nature writing, and Janelle Wertzberger recaps the spring 2016 #GBCTalks reading series on race and racism as well as sharing additional titles for further reading.
Every reader is sure to find something tempting in this publication, which has become a campus favorite. Happy reading!
Publication Date
Summer 2016
Recommended Citation
Musselman Library, "You've Gotta Read This: Summer Reading at Musselman Library (2016)" (2016). You've Gotta Read This: Summer Reading at Musselman Library. 14.
https://cupola.gettysburg.edu/summerreads/14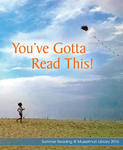 COinS