Preview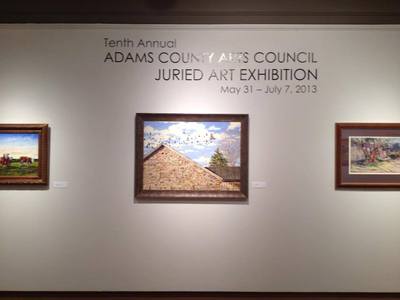 Description
The exhibition is offered in partnership with the Adams County Arts Council, Schmucker Art Gallery and the Gettysburg Festival.
Juried artists include M. Jane Albin, John Armstrong, Millie Bankert, Sarah Becker, Eileen Colgan Bowling, Anne K. Byrne, Jack Chambers, Philip Colgan, Paul Colomb, Tom Conway, Pamela Cooper-White, Susan G. DeVan, Barbara Ebaugh, Audrey Farnsworth, Sue Fehringer, Anne Finucane, G.L. Gasowski, Geoff Grant, Nanette Hatzes, Maaike Heitkonig, Betty Henry, Tim Hirneisen, Teresa Jarzynski, David Keperling, Celeste Lauritsen, Jim Lauritsen, Joli Miller, Kerry Mott, Wanda Murren, Alan Paulson, Arlyn Pettingell, Jill Rakowicz, Carol Rinehart, Ann Ruppert, Ted Scarpino, Mel Shull, Andrew Smith, DiAnne Smith, Peter Smyth, Dana Stewart, Andrea Miller Theisson, Geoffrey Thulin, Barbara Wilke and Anne Zabawa.
Awards totaling $2,600 were presented thanks to the sponsorship of Scott & Co. Fine Jewelers, OPEN MINDS, For the Cause Productions, Kristine Witherow - ProEquities, Dick Blick and Schmucker Art Gallery.
The event is co-chaired by Louise Garverick and Judie Butterfield. For more information about Arts Council programs, classes, and membership, contact (717) 334-5006,aa@adamsarts.org or visit www.adamsarts.org. For more information about event partner the Gettysburg Festival, June 8- 16, visitwww.gettysburgfestival.org.
Keywords
Gettysburg College, Schmucker Art Gallery, Annual Adams County Arts Council Juried Art Exhibit
COinS