Artists & Curators
Artist:
José Guadalupe Posada
Lecturer:
Diane Miliotes, Smart Museum of Art, University of Chicago
Student Speaker:
Venessa Martinez '19, Gettysburg College
Preview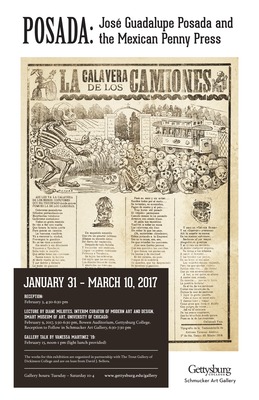 Gallery Talk Date
February 15, 2017
Exhibit Dates
January 31 - March 10, 2017
Reception Date
February 9, 2017
Description
José Guadalupe Posada (1852–1913) was one of Mexico's most influential political printmakers and cartoonists. Posada produced an extensive body of imagery, from illustrations for children's games to sensationalistic news stories. He is best known, however, for his popular and satirical representations of calaveras (skeletons) in lively guises, who have become associated with the Día de los Muertos (Day of the Dead) celebrations. Posada's prints shaped generations of Mexican artists including the muralists Diego Rivera and José Clemente Orozco. This exhibition features a range of prints and print media including calaveras, chapbooks, political prints, devotional images, and representations of natural disasters and popular events. The works for this exhibition are organized by Dickinson College's Trout Gallery and are on loan from David Sellers.
Keywords
José Guadalupe Posada, penny press, Mexico, cartoonist, printmaking, political cartoons, satire
COinS