Artists & Curators
Cutators:
Molly A. Chason '17, Gettysburg College
Leah R. Falk '18, Gettysburg College
Shannon N. Gross '17, Gettysburg College
Bailey R. Harper '19, Gettysburg College
Laura G. Waters '19, Gettysburg College
Under the Direction Of:
Yan Sun, Gettysburg College
Preview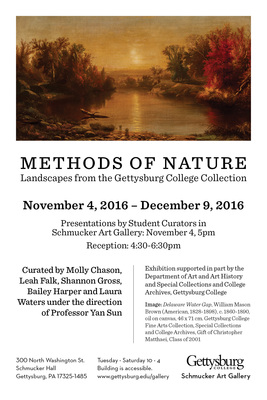 Gallery Talk Date
November 4, 2016
Exhibit Dates
November 4 - December 9, 2016
Reception Date
November 4, 2016
Description
This exhibit is curated by students under the direction of Professor of Art History Yan Sun for the course Methods of Art History. The student curators will examine the theme of nature and the genre of landscape through art and material culture from Gettysburg College's Special Collections and Fine Arts Collection. The student curators are Molly Chason '17, Leah Falk '18, Shannon Gross '17, Bailey Harper '19, and Laura Waters '19. The exhibit includes works varying in era and style, by artists such as William Mason Brown, George Leo Frankenstein, Kasamatsu Shiro, and Stephen Etnier, amongst others.
Keywords
Landscape, Nature, Material Culture, William Mason Brown, George Leo Frankenstein, Kasamatsu Shiro, Stephen Etnier
COinS