Artists & Curators
Speakers:
Brent Blair, Gettysburg College
Tina Gebhart, Gettysburg College
Amer Kobaslija, Gettysburg College
John Kovaleski, Gettysburg College
Bob Patierno, Gettysburg College
Mark Warwick, Gettysburg College
Preview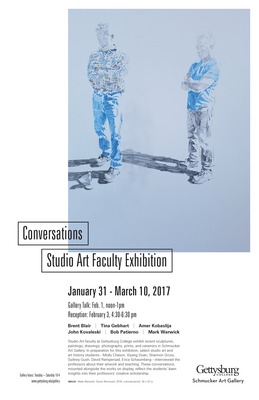 Gallery Talk Date
February 1, 2017
Exhibit Dates
January 31 - March 10, 2017
Reception Date
February 3, 2017
Description
Studio Art faculty at Gettysburg College exhibit recent sculptures, paintings, drawings, photographs, prints, and ceramics in Schmucker Art Gallery. In preparation for this exhibition, select studio art and art history students—Molly Chason, Xiyang Duan, Shannon Gross, Sydney Gush, David Rampersad, Erica Schaumberg—interviewed the professors about their artwork and teaching. These conversations, mounted alongside the works on display, reflect the students' keen insights into their professors' creative scholarship.
Keywords
Sculpture, Painting, Drawing, Photography, Print, Ceramics, teaching, interview, conversation
COinS