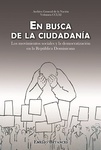 Title
En Busca de la Ciudadanía: Los Movimientos Sociales y la Democratización en la República Dominicana
Description
En busca de la ciudadania analyzes a broad spectrum of movements including labor, peasant, urban grassroots, teachers, and environmental. It examines the successes and failures of popular struggles and their relations with political parties, the state, non-governmental organizations (NGOs), and the U.S. Embassy. Further, it tells us how various popular organizations aided in the construction of social citizenship and the process of democratization in a society that underwent major transformation in the 1970s and 1980s.
Publisher
Archivo General de la Nación
Department 1
Latin American Studies
Recommended Citation
Betances, Emelio. En Busca de la Ciudadanía: Los Movimientos Sociales y la Democratización en la República Dominicana. Santo Domingo: Archivo General de la Nación, 2016.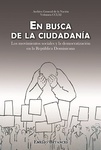 COinS