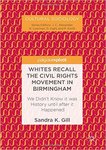 Title
Whites Recall the Civil Rights Movement in Birmingham: We Didn't Know It Was History Until After It Happened
Description
This illuminating volume examines how the 1963 bombing of the Sixteenth Street Baptist Church in Birmingham, Alabama developed as a trauma of culture. Throughout the book, Gill asks why the "four little girls" killed in the bombing became part of the nation's collective memory, while two black boys killed by whites on the same day were all but forgotten. Conducting interviews with classmates who attended a white school a few blocks from some of the most memorable events of the Civil Rights Movement, Gill discovers that the bombing of the church is central to interviewees' memories. Even the boy killed by Gill's own classmates often escapes recollection. She then considers these findings within the framework of the reception of memory and analyzes how white southerners reconstruct a difficult past.
Publisher
Palgrave Macmillan
Recommended Citation
Gill, Sandra K. Whites Recall the Civil Rights Movement in Birmingham: We Didn't Know It Was History Until After It Happened. New York: Palgrave-MacMillan, 2017.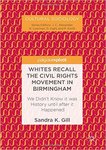 COinS