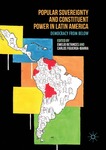 Title
Popular Sovereignty and Constituent Power in Latin America: Democracy from Below
Roles
Editors:
Emelio R. Betances, Gettysburg College
Carlos Figueroa Ibarra, Benemérita Universidad Autonoma de Puebla
Description
This book combines a bottom-up and top-down approach to the study of social movements in relationship to the development of constituent and constituted power in Latin America. The contributors to this volume argue that the radical transformation of liberal representative democracy into participative democracy is what colours these processes as revolutionary. The core themes include popular sovereignty, constituted power, constituent power, participatory democracy, free trade agreements, social citizenship, as well as redistribution and recognition issues. Unlike other collections, which provide broad coverage of social movements at the expense of depth, this book is of thematic focus and illuminates the relationships between rulers and ruled as they transform liberal democracy.
Publisher
Palgrave Macmillan
Recommended Citation
Betances, Emelio, and Carlos Figueroa Ibarra, eds. Popular Sovereignty and Constituent Power in Latin America. New York: Palgrave Macmillan, 2016.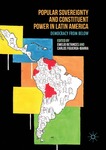 COinS