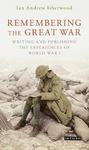 Description
The horrors and tragedies of the First World War produced some of the finest literature of the century: including Memoirs of an Infantry Officer; Goodbye to All That; the poetry of Wilfred Owen and Edward Thomas; and the novels of Ford Madox Ford. Collectively detailing every campaign and action, together with the emotions and motives of the men on the ground, these 'war books' are the most important set of sources on the Great War that we have. Through looking at the war poems, memoirs and accounts published after the First World War, Ian Andrew Isherwood addresses the key issues of wartime historiography-patriotism, cowardice, publishers and their motives, readers and their motives, masculinity and propaganda. He also analyses the culture, society and politics of the world left behind. Remembering the Great War is a valuable, fascinating and stirring addition to our knowledge of the experiences of WWI.
Publication Date
2-28-2017
Department 1
Civil War Era Studies
Department 2
Interdisciplinary Studies
Copyright Note
This is the publisher's version of the work. This publication appears in Gettysburg College's institutional repository by permission of the copyright owner for personal use, not for redistribution.
Recommended Citation
Isherwood, Ian Andrew. Remembering the Great War: Writing and Publishing the Experiences of WWI. London: I. B. Tauris, 2017.
Required Publisher's Statement
Original version available from the publisher, I. B. Tauris.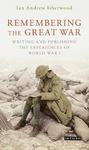 COinS