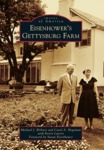 Title
Eisenhower's Gettysburg Farm
Roles
Authors:
Michael J. Birkner, Gettysburg College
Carol A. Hegeman, Eisenhower National Historic Site Museum
Student Author:
Kevin Lavery, Gettysburg College '16
Forward:
Susan E. Eisenhower, The Eisenhower Institute
Description
The Eisenhower farm was the first and only home that Dwight Eisenhower and his wife, Mamie, called their own. During Eisenhower's military career, he and Mamie lived around the world, but he always hoped to own a piece of property and leave it better than he found it. That wish led to the purchase of the Allen Redding farm in 1950 and the Eisenhowers' thorough renovation of its dwelling. During Eisenhower's presidency, the farm served as a retreat from the Washington pressure cooker. When his presidential term ended, the Eisenhowers embraced a new chapter in their lives together. Eisenhower maintained an active schedule of writing, speechmaking, correspondence, and meetings with a wide range of national and world leaders, as well as supervision of an active farm operation. Mamie and Dwight shared a busy social life in retirement, taking special pleasure in spending time with their son John, daughter-in-law Barbara, and four grandchildren. This book tells the Eisenhowers' Gettysburg story.
Publication Date
3-6-2017
Publisher
Arcadia Publishing
Recommended Citation
Birkner, Michael J., Carol A. Hegeman, and Kevin Lavery. Eisenhower's Gettysburg Farm. Mount Pleasant, SC: Arcadia Publishing, 2017.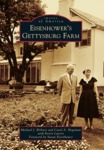 COinS