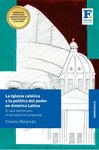 Title
La Iglesia Católica y la Política del Poder en América Latina
Description
El autor analiza las circunstancias particulares que le permitieron a la iglesia en la República Dominicana realizar su adaptación a los poderes establecidos en el campo político y social: la iglesia ofreció una mediación política imparcial, reconstruyó sus lazos con las clases más bajas de la sociedad y, así mismo, respondió a los desafíos del movimiento evangélico. La investigación histórica acerca de las relaciones Iglesia-Estado en el país amplía nuestro entendimiento de la iglesia católica en toda América latina. Este libro resultó ganador del Premio Nacional de Ensayo Pedro Henríquez Ureña 2009 en la modalidad de ensayo científico.
Publisher
Editorial Funglode
Keywords
Catholic Church, Latin America, Catholicism, Power Politics, Democracy, Dictatorship
Disciplines
Catholic Studies | Latin American History | Latin American Languages and Societies | Latin American Studies | Political History | Politics and Social Change
Department
Latin American Studies
Recommended Citation
Betances, Emelio. La iglesia católica y la política del poder en América Latina. Santo Domingo: Editorial Funglode, 2017).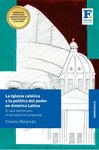 COinS