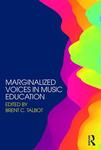 Title
Marginalized Voices in Music Education
Roles
Editor:
Brent C. Talbot
Description
Marginalized Voices in Music Education explores the American culture of music teachers by looking at marginalization and privilege in music education as a means to critique prevailing assumptions and paradigms. In fifteen contributed essays, authors set out to expand notions of who we believe we are as music educators -- and who we want to become. This book is a collection of perspectives by some of the leading and emerging thinkers in the profession, and identifies cases of individuals or groups who had experienced marginalization. It shares the diverse stories in a struggle for inclusion, with the goal to begin or expand conversation in undergraduate and graduate courses in music teacher education. Through the telling of these stores, authors hope to recast music education as fertile ground for transformation, experimentation and renewal.
Publication Date
10-19-2017
Department 1
Conservatory of Music
Recommended Citation
Talbot, B. C., ed. Marginalized Voices in Music Education. New York: Routledge, 2018.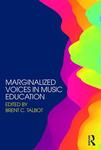 COinS