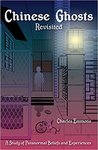 Title
Chinese Ghosts Revisited: A Study of Paranormal Beliefs and Experiences
Description
Do the Hong Kong Chinese experience ghosts, hauntings, spirit mediumship, ESP and other paranormal phenomena just like British and Americans? Or is their culture so different that the ghost accounts in this book will seem bizarre to anyone else? This classic presentation of cases is based on 3,600 interviews, questionnaires and observations in Hong Kong in 1980/81, updated by recent materials over 30 years later. Interestingly, in spite of clear influences from ancestor worship and Confucian/Taoist/Buddhist culture, parapsychological theories of apparitions from the West also apply to the Chinese cases. For this 2017 edition, Charles Emmons has revisited his earlier conclusions and added new material that has come to light in the intervening years. This book remains the only major cross-cultural study comparing Chinese with Western ghost experiences.
Publication Date
12-31-2017
Publisher
Blacksmith Books
Recommended Citation
Emmons, Charles. Chinese Ghosts Revisited: A Study of Paranormal Beliefs and Experiences. Hong Kong: Blacksmith Books, 2017.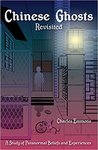 COinS