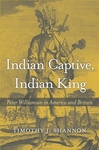 Title
Indian Captive, Indian King: Peter Williamson in America and Britain
Description
In 1758 Peter Williamson appeared on the streets of Aberdeen, Scotland, dressed as a Native American and telling a remarkable tale. He claimed that as a young boy he had been kidnapped from the city and sold into slavery in America. In performances and in a printed narrative he peddled to his audiences, Williamson described his tribulations as an indentured servant, Indian captive, soldier, and prisoner of war. Aberdeen's magistrates called him a liar and banished him from the city, but Williamson defended his story.
Separating fact from fiction, Timothy J. Shannon explains what Williamson's tale says about how working people of eighteenth-century Britain, so often depicted as victims of empire, found ways to create lives and exploit opportunities within it. Exiled from Aberdeen, Williamson settled in Edinburgh, where he cultivated enduring celebrity as the self-proclaimed "king of the Indians." His performances and publications capitalized on the curiosity the Seven Years' War had ignited among the public for news and information about America and its native inhabitants. As a coffeehouse proprietor and printer, he gave audiences a plebeian perspective on Britain's rise to imperial power in North America.
Indian Captive, Indian King is a history of empire from the bottom up, showing how Williamson's American odyssey illuminates the real-life experiences of everyday people on the margins of the British Empire and how those experiences, when repackaged in travel narratives and captivity tales, shaped popular perceptions about the empire's racial and cultural geography.
Publisher
Harvard University Press
Recommended Citation
Shannon, Timothy J. "Indian Captive, Indian King: Peter Williamson in America and Britain." Cambridge, MA: Harvard University Press, 2018.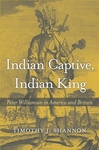 COinS