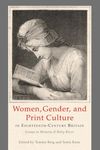 Title
Women, Gender, and Print Culture in Eighteenth-Century Britain
Roles
Editor: Temma F. Berg, Gettysburg College
Editor: Sonia Kane
Description
This edited collection, a tribute to the late noted eighteenth-century scholar Betty Rizzo, testifies to her influence as a researcher, writer, teacher, and mentor. The essays, written by a range of established and younger eighteenth-century specialists, expand on the themes important to Rizzo: the importance of the archive, the contributions of women writers to the canon of eighteenth-century literature and to an emerging print culture, the sometimes fraught relations within the eighteenth-century family, the relationship between life and literature, and, finally, the role of female companionship in women's lives. Divided into three sections, "Living in the Eighteenth-Century Novel," "Living in the Eighteenth-Century World," and "Afterlives," the fourteen essays that form the body of the collection treat such topics as epistolarity, fraternal relations in novels and in families, women and travel in Jane Austen's novels, the pleasures and challenges of searching through archives to understand the complex entanglements of eighteenth-century families, the changing reception of Alexander Pope's poetry, and intersections among race, class, gender, and sexuality in a famous early-nineteenth-century Scottish libel case. The final essay of the fourteen connects the archetypal eighteenth-century figure of the seduced and abandoned woman to Sophie Calle's 2007 Venice Biennale exhibition entitled Take Care of Yourself, which the author reads as a direct descendant of the eighteenth-century letter novel. The book is framed by an introduction that situates the book as part of the ongoing redefinition of the archive of eighteenth-century literature and an afterword that gives a personal account of Rizzo's career and her indelible legacy as friend, mentor, and professional model. The contributors use a variety of methods in their scholarship, but a common strand is archival research and close reading inflected by feminist analysis. The contributors to the volume practice the kind of scholarship Rizzo was known for—painstaking archival research and attention to the nuances of relationships among eighteenth-century women (and men)—and in so doing shed new light on a number of familiar and not-so-familiar eighteenth-century texts.
Publisher
Lehigh University Press
Copyright Note
This is the publisher's version of the work. This publication appears in Gettysburg College's institutional repository by permission of the copyright owner for personal use, not for redistribution.
Recommended Citation
Berg, Temma and Sonia Kane, Eds. Women, Gender, and Print Culture in Eighteenth-Century Britain: Essays in Memory of Betty Rizzo. Bethlehem, PA: Lehigh University Press, 2013.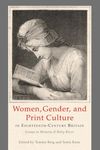 COinS