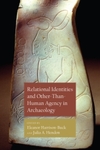 Description
Relational Identities and Other-than-Human Agency in Archaeology explores the benefits and consequences of archaeological theorizing on and interpretation of the social agency of nonhumans as relational beings capable of producing change in the world. The volume cross-examines traditional understanding of agency and personhood, presenting a globally diverse set of case studies that cover a range of cultural, geographical, and historical contexts.
Agency (the ability to act) and personhood (the reciprocal qualities of relational beings) have traditionally been strictly assigned to humans. In case studies from Ghana to Australia to the British Isles and Mesoamerica, contributors to this volume demonstrate that objects, animals, locations, and other nonhuman actors also potentially share this ontological status and are capable of instigating events and enacting change. This kind of other-than-human agency is not a one-way transaction of cause to effect but requires an appropriate form of reciprocal engagement indicative of relational personhood, which in these cases, left material traces detectable in the archaeological record.
Modern dualist ontologies separating objects from subjects and the animate from the inanimate obscure our understanding of the roles that other-than-human agents played in past societies. Relational Identities and Other-than-Human Agency in Archaeology challenges this essentialist binary perspective. Contributors in this volume show that intersubjective (inherently social) ways of being are a fundamental and indispensable condition of all personhood and move the debate in posthumanist scholarship beyond the polarizing dichotomies of relational versus bounded types of persons. In this way, the book makes a significant contribution to theory and interpretation of personhood and other-than-human agency in archaeology.
Publisher
University Press of Colorado
Department 1
Anthropology
Copyright Note
This is the publisher's version of the work. This publication appears in Gettysburg College's institutional repository by permission of the copyright owner for personal use, not for redistribution.
Recommended Citation
Harrison-Buck, Eleanor and Julia A. Hendon, eds. Relational Identities and Other-Than-Human-Agency in Archaeology. Louisville: University of Colorado Press, 2018.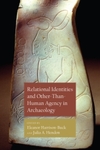 COinS