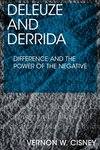 Description
The first scholarly comparative analysis of Jacques Derrida and Gilles Deleuze's philosophies of difference.

Jacques Derrida and Gilles Deleuze are best known for their respective attempts to theoretically formulate non-dialectical conceptions of difference. Now, for the first time, Vernon W. Cisney brings you a scholarly analysis of their contrasting concepts of difference.
Cisney distinguishes their conceptions of difference by differentiating them on the basis of the criticisms they level against Hegel, as well as their valorisations of Nietzsche, and the ways in which they understand Nietzsche's thought to surpass that of Hegel. The contrast between the two, Cisney argues, is that while Deleuze formulates an affirmative conception of difference, Derrida's différance amounts to an irresolvable negativity.
Publication Date
10-1-2018
Publisher
Edinburgh University Press
Department 1
Interdisciplinary Studies
Copyright Note
This is the publisher's version of the work. This publication appears in Gettysburg College's institutional repository by permission of the copyright owner for personal use, not for redistribution.
Recommended Citation
Cisney, Vernon. Deleuze and Derrida: Difference and the Power of the Negative. Edinburgh: Edinburgh University Press, 2018.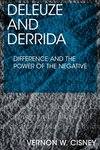 Included in
COinS