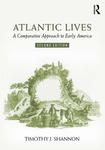 Files
Download
Available for download on Thursday, June 25, 2020
Download Full Text (212 KB)
Description
Atlantic Lives offers insight into the lived experiences of a range of actors in the early modern Atlantic World. Organized thematically, each chapter features primary source selections from a variety of non-traditional sources, including travel narratives from West Africa, the Caribbean, and Latin America. The fully-revised and expanded second edition goes into even greater depth in exploring the diverse roles and experiences of women, Native Americans, and Africans, as well as the critical theme of emerging capitalism and New World slavery. New chapters also address captivity experiences, intercultural religious encounters, and interracial sexuality and marriage.With classroom-focused discussion questions and suggested additional readings accompanying each chapter, Atlantic Lives provides students with a wide-ranging introduction to the many voices and identities that comprised the Atlantic World.
Publication Date
1-25-2019
Copyright Note
This is the author's version of the work. This publication appears in Gettysburg College's institutional repository by permission of the copyright owner for personal use, not for redistribution.
Recommended Citation
Shannon, Timothy J. ed., Atlantic Lives: A Comparative Approach to Early America, second edition. New York and London: Routledge, 2019.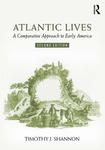 Included in
COinS