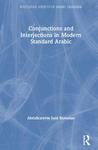 Description
Conjunctions and Interjections in Modern Standard Arabic is a grammar for Modern Standard Arabic introducing conjunctions and interjections from the most basic to the most advanced, with drills for each grammatical point. Skill in the use of conjunctions and interjections is essential for acquiring proficiency in expressing relationships of causation, order, time sequence and other relationships among events and ideas.
Each chapter presents the grammar of conjunctions and interjections in clearly organized tables with examples of each use. An additional section presents multiple drills for practice and functional use.
Aimed as a textbook for students for all four years of university Arabic, and for independent learners.
Publication Date
3-26-2019
Department 1
Interdisciplinary Studies
Copyright Note
This is the publisher's version of the work. This publication appears in Gettysburg College's institutional repository by permission of the copyright owner for personal use, not for redistribution.
Recommended Citation
Said Ramadan, Abdulkareem. Conjunctions and Interjections in Modern Standard Arabic. Abingdon: Routledge, 2019.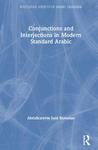 COinS