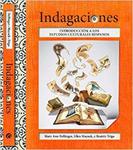 Title
Indagaciones: Introducción a los estudios culturales hispanos
Description
Indagaciones is a postintermediate Spanish textbook that introduces students to a wide variety of visual, audio, and written texts and teaches critical textual analysis in Spanish through a cultural studies approach. Deepening and enhancing students' knowledge of the expression of culture within Latin America, Spain, and U.S.-Latin@ areas, Indagaciones gives students ample opportunities to practice reading, listening, and viewing cultural content and textual analysis, including understanding culture, expanding their vocabulary, and learning how to engage in analysis. Students will gain the abilities to critically approach a cultural text, synthesize its main points, and prepare multimodal analyses all within a communicative context. This book provides the linguistic scaffolding necessary to help L2 students advance beyond the intermediate language level and heritage students progress, providing glosses, conceptual discussions, grammatical information, and introducing students to key texts from around the Spanish-speaking world.
Publisher
Georgetown University Press
Recommended Citation
Dellinger, Mary Ann, Ellen Mayock, and Beatriz Trigo. Indagaciones: Introducción a los estudios culturales Hispanos. Washington D.C., Georgetown University Press, 2019.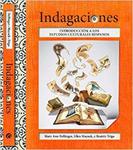 COinS