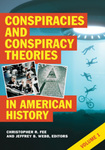 Title
Conspiracies and Conspiracy Theories in American History
Roles
Student Contributors
Graham H. Alabdulla, Gettysburg College
Kirstynn E. Bonsall '18, Gettysburg College
Christian D. Boor '18, Gettysburg College
Jonathan G. Bray '19, Gettysburg College
Melissa R. Casale '19, Gettysburg College
Ruoxuan Chen '19, Gettysburg College
Kelly K. Curran '20, Gettysburg College
James L. Hagedorn '18, Gettysburg College
Jessica L. Hubert '18, Gettysburg College
Anika N. Jensen '18, Gettysburg College
Natalie J. Keznor '18, Gettysburg College
Hayley K. Lund '19, Gettysburg College
Lisa L. Maeyer '19, Gettysburg College
Susanna L. Mills '18, Gettysburg College
Jackson M. Mumford '19, Gettysburg College
Andrew C. Nosti '19, Gettysburg College
Ilana M. Olbrys '19, Gettysburg College
Nichalas G. Przywarty '20, Gettysburg College
Isabella Rosedietcher '18, Gettysburg College
Rebecca Rosenberg '18, Gettysburg College
Charlie Tanquary '18, Gettysburg College
Lauren E. White '18, Gettysburg College
Amy E. Whitsel '19, Gettysburg College
Description
This up-to-date introduction to the complex world of conspiracies and conspiracy theories provides insight into why millions of people are so ready to believe the worst about our political, legal, religious, and financial institutions.
Unsupported theories provide simple explanations for catastrophes that are otherwise difficult to understand, from the U.S. Civil War to the Stock Market Crash of 1929 to the terrorist attacks on the World Trade Center in New York. Ideas about shadowy networks that operate behind a cloak of secrecy, including real organizations like the CIA and the Mafia and imagined ones like the Illuminati, additionally provide a way for people to criticize prevailing political and economic arrangements, while for society's disadvantaged and forgotten groups, conspiracy theories make their suffering and alienation comprehensible and provide a focal point for their economic or political frustrations.
These volumes detail the highly controversial and influential phenomena of conspiracies and conspiracy theories in American society. Through interpretive essays and factual accounts of various people, organizations, and ideas, the reader will gain a much greater appreciation for a set of beliefs about political scheming, covert intelligence gathering, and criminal rings that has held its grip on the minds of millions of American citizens and encouraged them to believe that the conspiracies may run deeper, and with a global reach.
Recommended Citation
Fee, Christopher R., et al. Conspiracies and Conspiracy Theories in American History. ABC-CLIO, 2019.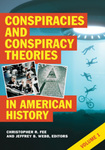 COinS