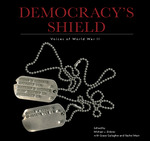 Roles
Edited by Michael J. Birkner, with Grace Gallagher '22 and Rachel Main '22
Description
Based on a body of 700 oral history interviews archived at Gettysburg College, Democracy's Shield relates the American military experience through the voices of those who served – from early awareness of the conflict in Europe and East Asia to the dropping of the atomic bomb, victory, occupation and homecoming.
The text is illustrated with images of artifacts from the library's Special Collections.
Table of Contents
Foreword
Introduction
Portents of War
Pearl Harbor
Draft Status and Volunteering
Exams, Induction, Training
Heading to the Front
Attitudes about the Enemy
Race, Gender and the War Effort
GI Joe
Aboard Ship
Up in the Air
Medical Experience
Leisure Activity
Connections with Home
European Theater
D-Day
Pacific Theater
Experience of Battle
POWs
Death Camps
Atomic Bomb
Occupation
Going Home
Reflections
The Interviewees
Note on Sources
Acknowledgments
About the Editors
The Dwight D. Eisenhower Society
War in Focus
Credits and Illustrations
Donors
Publisher
Musselman Library
Copyright Note
This is the publisher's version of the work. This excerpt appears in Gettysburg College's institutional repository by permission of the copyright owner for personal use, not for redistribution.
Recommended Citation
Birkner, Michael J.; Gallagher, Grace E.; and Main, Rachel I., "Democracy's Shield: Voices of WWII" (2022). Gettysburg College Faculty Books. 181.
https://cupola.gettysburg.edu/books/181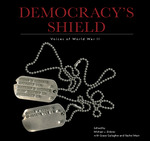 COinS