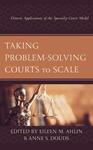 Title
Taking Problem-Solving Courts to Scale: Diverse Applications of the Specialty Court Model
Description
In the more than 30 years since the drug court model transformed the criminal justice landscape, problem-solving courts have expanded their reach beyond criminogenic needs. They now address demographic similarities (e.g., veterans courts, tribal wellness courts, community courts) and offense characteristics (e.g., prostitution courts, sex offender courts). The rapid expansion of problem-solving courts to meet many different individuals suggests this template is appropriate and adaptable to just about any categorical characteristic. This book calls on problem-solving court experts to offer a fresh perspective on the evolving discourse on these courts' proliferation. Contributors describe diverse applications of the problem-solving court model while critically appraising these niche courts' evidence. This book provides a comprehensive account to date of how problem-solving courts are continuing to revolutionize justice. This collective body of work strengthens our understanding of their placement in the throes of a call for meaningful criminal justice reform. Taking Problem-Solving Courts to Scale is presented in three sections to address specialty courts focused on criminogenic needs, individual characteristics, and offense characteristics. At the outset of each section, the editors describe the courts' purpose falling under these broad categories and highlight key elements from the chapters falling within.
Publisher
Rowman & Littlefield
Department 1
Public Policy
Recommended Citation
Ahlin, Eileen, and Anne S. Douds, Editors. Taking Problem-Solving Courts to Scale : Diverse Applications of the Specialty Court Model. Rowman & Littlefield, 2021.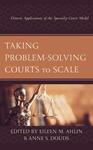 COinS