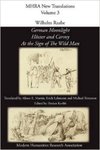 Title
German Moonlight, Höxter and Corvey, At the Sign of the Wild Man
Roles
Author: Wilhelm Raabe
Translator: Alison E. Martin
Translator: Eric Lehmann
Translator: Michael Ritterson, Gettysburg College
Editor: Florian Krobb
Description
Ritterson translated, co-translated, or revised each of the two novellas and one story in this collection, all dating from the years 1873-75. The story, German Moonlight, was first translated by a Gettysburg College student collaborative in 2007 and published in 2009.
Publisher
Modern Humanities Research Association
Disciplines
Creative Writing | German Language and Literature
Recommended Citation
Raabe, Wilhelm. German Moonlight, Höxter and Corvey, At the Sign of the Wild Man. Trans. Alison E. Martin, Erich Lehmann and Michael Ritterson. Ed. Florian Krobb. London: Modern Humanities Research Association, 2012.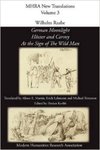 COinS