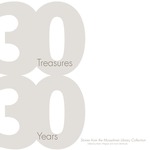 Title
Thirty Treasures, Thirty Years: Stories from the Musselman Library Collection
Roles
Editor: Robin Wagner, Gettysburg College
Editor: Sunni DeNicola, Gettysburg College
Description
What is a Treasure? Is it something rare like a Shakespeare folio or is it something dazzling like pieces from the Asian Art collection? Is it simply old, like a 17th century copy of Euclid's Geometry? Or, is it neither costly nor ornate, but valuable in the classroom, as a teaching tool? In this volume, 30 faculty, alumni and friends write about their favorite "treasures" from the Gettysburg College Library. Enjoy their stories of discovery and surprise. You'll find everything from art and literature to sports - with a murder mystery tossed in.
Contents
Introduction Robin Wagner
Ancient Chinese Ritual Objects Yan Sun
Samurai Armor and Katana Dina Lowy
Portrait of Martin Luther Baird Tipson
The John H. W. Stuckenberg Map Collection Barbara A. Sommer
Shakespeare Folio Christopher Kauffman
Euclidis Elementorum Darren Glass
The Book of Martyrs Charles "Buz" Myers
Gulliver's Travels Joanne Myers
German Broadside of the Declaration of Independence Daniel R. DeNicola
New-England Primer Timothy J. Shannon
A Manual of Chemistry Michael Wedlock
Samuel Simon Schmucker's Letters to His Wife Catherine Anna Jane Moyer
Architectural Drawings of Old Dorm Charles Glatfelter
Portrait of Thaddeus Stevens Janet Morgan Riggs
Gettysburg from McLean's Hill Peter S. Carmichael
Jacobs' Account of the Rebel Invasion Allen C. Guelzo
Alice's Adventures in Wonderland Catherine Quinn Perry
Alexander von Humboldt's Secretary William D. Bowman
Portrait of Jeremiah Zimmerman Christopher J. Zappe
Eddie Plank's Baseball Dave Powell
Spirit of Gettysburg Timothy Sestrick
A Photographic Atlas of Selected Regions of the Milky Way Larry Marschall
Movie Posters James Udden
Photographs of the College Playing Fields Daniel R. Gilbert, Jr.
A Catalogue of Chinese Pottery and Porcelain Mike Hobor
Address Unknown George Muschamp
Dwight D. Eisenhower's Presidential Correspondence Michael J. Birkner
The Photographs of Stephen Warner Roger Stemen
The Papers of Jerry Spinelli, Class of 1963 Sunni DeNicola
Confucius Pendant Deborah Sommer
The Library at Gettysburg College: Past and Present Christine Ameduri
Publisher
Gettysburg College
Copyright Note
This is the publisher's version of the work. This publication appears in Gettysburg College's institutional repository by permission of the copyright owner for personal use, not for redistribution.
Recommended Citation
Wagner, Robin and DeNicola, Sunni, "Thirty Treasures, Thirty Years: Stories from the Musselman Library Collection" (2011). Gettysburg College Faculty Books. 29.
https://cupola.gettysburg.edu/books/29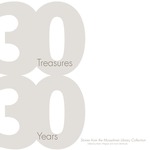 COinS