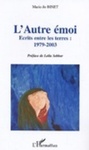 Title
L'Autre Émoi: Ecrits Entre les Terres, 1979-2003
Description
French: Qu'elle soit biologique ou culturelle, la transplantation nous oblige à repenser les notions de frontière, d'identité et de racine. Les personnes qui se déplacent et qui se reconstruisent autrement, ailleurs, initient toutes sortes de métamorphoses en eux-mêmes et autour d'eux. Ces transformations réorganisent et enrichissent les communautés humaines. Composé comme un collage, ce livre agence des extraits de récits, de nouvelles et de romans écrits par des auteurs d'origine diverses ; Abdellah Taïa, Gisèle Pineau, Andrée Chedid, Malika Mokeddem, William Sassine, Leïla Sebbar.
English: Whether biological or cultural transplantation requires us to rethink notions of boundaries, identity and root . The people moving and rebuilding which otherwise also initiate all sorts of metamorphoses in themselves and around them. These transformations reorganize and enrich human communities. Composed as a collage, this book excerpts agency stories, short stories and novels written by authors of diverse origin; Abdellah Taia, Gisèle Pineau, Andrée Chedid, Malika Mokeddem William Sassine, Leila Sebbar.
Recommended Citation
Binet, Marie-Jo. L'Autre Émoi: Ecrits Entre les Terres, 1979-2003 (Paris: L'Harmattan, 2005).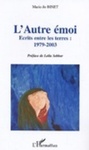 COinS