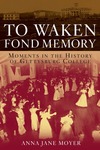 Description
Between 1975 and 1989 Anna Jane Moyer produced a series of essays for the Gettysburg College alumni magazine capturing "moments" on campus and in the town of Gettysburg since 1832. Treating people, places, and notable events over the course of the College's first 150 years, Moyer's sketches reached an appreciative audience at the time. But with the Gettysburg College 175th anniversary approaching, it seemed appropriate to make her writing more readily available to alumni, friends of the College, students, and scholars.
The sketches now republished in To Waken Fond Memory remind readers that the culture of a liberal arts college is never static, yet that certain elements remain important through the generations—among them a strong sense of community and growing readiness among students to influence the world beyond the Gettysburg campus. The longest of Moyer's collected pieces, "Mandolins in the Moonlight," was originally published under a different title, as part of a series of pamphlets marking the College's sesquicentennial. Like the shorter vignettes featured in this book, "Mandolins in the Moonlight" evokes most charmingly the ways students have interacted with their professors and their peers and in small ways and larger ones, made their mark. Taken together, the essays in To Waken Fond Memory will evoke a Gettysburg past that still resonates and informs its present identity.
Publisher
Friends of Musselman Library, Gettysburg College
Keywords
Gettysburg College, college life, literary society, alumni, education for women, Pennsylvania College, Gettysburg, Woman's General League, Battle of Gettysburg, Battle Reunion, 75th Anniversary, Blue and Gray, Henry Eyster Jacobs, Samuel Simon Schmucker, John Hopkins, Confederate soldier, Herman Haupt, Martin Luther Stoever, William Tipton, Philip Bikle, Charles H. Huber, Cora Berkey, Dwight D. Eisenhower, Brua Hall, Weidensall, Musselman Library, Schmucker Library, Hotel Gettysburg
Disciplines
Cultural History | Educational Sociology | History | History of Gender | Intellectual History | Political History | Social History | United States History | Women's History | Women's Studies
Copyright Note
This is the publisher's version of the work. This publication appears in Gettysburg College's institutional repository by permission of the copyright owner for personal use, not for redistribution.
Recommended Citation
Moyer, Anna Jane. To Waken Fond Memory: Moments in the History of Gettysburg College (Gettysburg, PA: Friends of Musselman Library, Gettysburg College, 2006).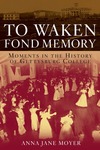 COinS