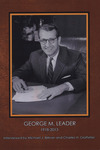 Description
George M. Leader (1918-2013), a native of York, Pennsylvania, rose from the anonymous status of chicken farmer's son and Gettysburg College undergraduate to become, first a State Senator, and then the 36th governor of the Commonwealth of Pennsylvania. A steadfast liberal in a traditionally conservative state, Leader spent his brief time in the governor's office (1955-1959) fighting uphill battles and blazing courageous trails. He overhauled the state's corrupt patronage system; streamlined and humanized its mental health apparatus; and, when a black family moved into the white enclave of Levittown, took a brave stand in favor of integration.
After politics, Leader became a pioneer in the area of assisted living, with a chain of Lutheran nursing homes in central Pennsylvania. He multiplied his philanthropies, endowing a nursing center, funding education and reintegration programs for prisoners, and providing supplies and expertise to impoverished Ghana. By the time of his death, George M. Leader had lived as vigorous, productive, and - to use a word he might have appreciated - useful a life as any Pennsylvanian of his time.
On three occasions in 2006 and 2007, Gettysburg College history professors Michael J. Birkner and Charles H. Glatfelter engaged the former governor in interviews about his life and times. Leader talked expansively and candidly about his wins and losses, his prides and regrets; the excitement and bitterness of politics, the satisfactions of philanthropy, and the sustenance of family. These interviews, ranging over nearly a century of political and state history, tell the story of one of Pennsylvania's most remarkable sons.
Publisher
Musselman Library
Copyright Note
This is the publisher's version of the work. This publication appears in Gettysburg College's institutional repository by permission of the copyright owner for personal use, not for redistribution.
Recommended Citation
Birkner, Michael J. and Charles H. Glatfelter. George M. Leader, 1918-2013. Musselman Library, 2014. Second Edition.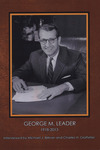 COinS