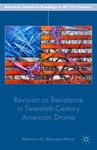 Title
Revision as Resistance in Twentieth-Century American Drama
Description
American dramas consciously rewrite the past as a means of determined criticism and intentional resistance. While modern criticism often sees the act of revision as derivative, Malburne-Wade uses Victor Turner's concept of the social drama and the concept of the liminal to argue for a more complicated view of revision.
Publisher
Palgrave Macmillan
Keywords
Political Resistance
Disciplines
Dramatic Literature, Criticism and Theory | English Language and Literature | Literature in English, North America | Theatre and Performance Studies | Theatre History
Recommended Citation
Malburne-Wade, Meredith M. Revision as Resistance in Twentieth-Century American Drama. NY: Palgrave Macmillan, 2015.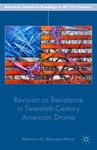 COinS