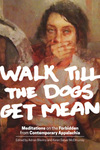 Title
Walk Till the Dogs Get Mean: Meditations on the Forbidden from Contemporary Appalachia
Roles
Editor: Adrian Blevins
Editor: Karen Salyer McElmurray
Description
In Walk Till the Dogs Get Mean, Adrian Blevins and Karen Salyer McElmurray collect essays from today's finest established and emerging writers with roots in Appalachia. Together, these essays take the theme of silencing in Appalachian culture, whether the details of that theme revolve around faith, class, work, or family legacies.
Publisher
Ohio University Press
Keywords
Appalachian culture, Appalachia
Disciplines
Appalachian Studies | English Language and Literature | Literature in English, North America, Ethnic and Cultural Minority | Nonfiction
Recommended Citation
Blevins, Adrian, and Karen Salyer McElmurray. Walk Till the Dogs Get Mean: Meditations on the Forbidden from Contemporary Appalachia. Ohio University Press, 2015.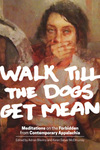 COinS